We're pleased to be celebrating 10 years of delivering great IT Support for John W. Laycock!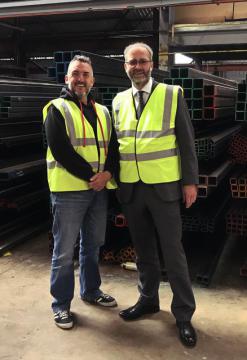 Laycocks is one of Keighley's longest established firms. They started out making nails in 1746 and formed a limited company in 1810, moving onto supplying steel for the textile industry mills, which sprang up all over town in the 19th and 20th centuries. In the last decade the steel service provider's IT needs have changed dramatically. We're always on hand to provide IT support. We also provide advice on which products and services are the best fit. Then we supply and install everything with minimal interruption to operations.
Great IT helps you achieve great things
We know that employees in every business, large or small, need the right tools for their job. When a business invests in the right IT systems their performance, efficiency and capacity dramatically increase. John W. Laycock is a great example of how our advice has led a company to reach their true potential.
Our relationship with Laycocks began in 2009 when their offices were in North Street. They had just a handful of standalone PCs. They needed Microsoft Access installing and a bespoke database configuring.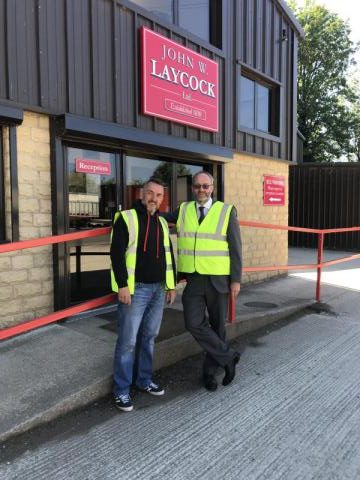 Once we'd completed the work, we provided occasional support for PC problems as they came up over the next few years. When Laycocks found they needed better way to store and share documents and other data in their extended warehousing and new offices in Stockbridge in 2011, we provided the solution together with online backup storage. We also provided support when flooding affected the Stockbridge area in December 2015.
Laycocks' Managing Director Mark Sugden said: "The first server Cosurica installed for us in 2011 suited us well until about 2 years ago. It became clear we'd need new systems to grow with us.
"Cosurica's team works really well with our chosen ERP software vendor, PCI Systems, to keep things running smoothly. Cosurica has implemented a cloud-based disaster recovery solution to ensure we can be back up and running very quickly, if we're ever affected by flooding again. As we rely increasingly on our IT, we also rely on Cosurica's superfast response. We're both family-run firms sharing a common set of values. Cosurica's honesty and no-nonsense approach to IT has saved us time and money over the last decade.
The proof is in the financials
Mark goes on to say, "We achieved our best ever financial results in the Company's 209 year history last year. On the back of our investment in IT we've pushed our stock level accuracy to 99.6% at the 2018-19 year end.  We look forward to building on our vital partnerships with Cosurica and PCI Systems to generate further significant improvements for our customers, our team and our business".
If your business has big ideas, we'll help you get there (just like we did for Laycocks)!
Call us now! 01535 358161.
For more information about our IT support services look here 
For more information about our Business IT Consultancy services look here
For more information about our migration services look here
Visit John W Laycock's website here for more information about this great Keighley business! They are so much More than METAL!