The brilliant Keighley and Airedale Business Awards 2019 took place last Friday evening, 21st June! This fabulous event gets bigger and better each year.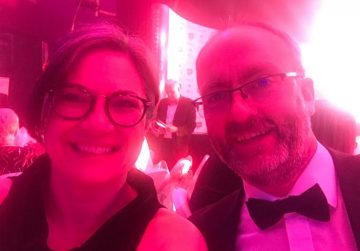 Our Sales Director, Michelle, had the great honour of presenting the award for SME Business of the Year to RN Wooler. They're a very well-established and highly respected building contractor with over 30 years experience.
RN Wooler also won the overall Business of the Year prize.
The Special Recognition award in the SME Business category was awarded, again by Michelle, to Wave (Wheatlands Aire Valley Engineering) picking up awards for the second year running!
Best Apprentice/Trainee of the Year – Sponsored by Keighley College  – was awarded to Wave's Business Admin apprentice, Ellie Clare. The company also picked up a Special Recognition award, in the Social Enterprise category, for their work supporting charities and local initiatives and reducing their environmental impact.
Social Enterprise Business of the Year – Sponsored by Keighley Social Lights – was awarded to Get Out More, a community interest company we've worked with on an ad hoc basis since 2010.
Congratulations to all the awards winners and runners up. We know you do amazing things every day!
There are so many deserving businesses, great business people and hard-working apprentices in the Keighley and Airedale area. We just wish we could give out prizes to all the deserving, hardworking businesses we meet and support.
A little bit of our help with your IT might make your business do even more amazing things. It might even help you win an award. Give us a call on 01535 358161 and find out how we can help you!
For more information on the awards visit https://www.keighleybusinessawards.co.uk/ target="_blank" and https://www.keighleynews.co.uk/news/17726432.awards-salute-the-cream-of-keighley-and-airedales-business-community/ target="_blank"
BTW – Who's that cute little chap standing on Michelle and Gareth's shoulders??? Ah! That'll be our Harry!